Office Location
322 Vincent St, Leederville
Email Us
smile@dentistsonvincent.com.au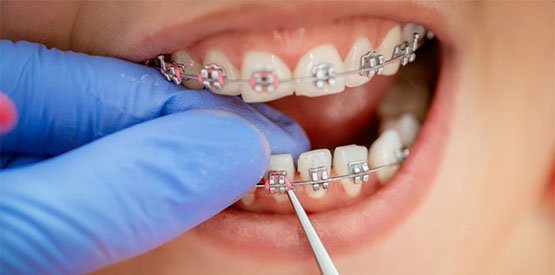 Braces Care
Braces are dental appliances worn to help correct the alignment of our teeth and jaws, which can offer better health — and a long-lasting smile that can last a lifetime.
However, braces come with a greater opportunity for plaque build-up in and around the spaces and our teeth and gums.
This makes it important to take care when practising oral hygiene as well as cleaning our braces regularly.
Basic Hygiene and Care for Braces
It is important not only to practice proper oral hygiene but also to practice careful braces hygiene while wearing braces or other orthodontic appliances.
Because orthodontic appliances create areas for plaque build-up and bacteria, cleaning them properly can help prevent any onset of gum disease and tooth decay and keep your teeth and mouth healthy.
When you wear braces, your Leederville dentist may provide or recommend a product that will help you clean your braces. Make sure to use them as instructed.
This may take a little practice, but it will become a quick-and-easy daily habit and part of your oral hygiene routine.
Do not forget, brushing your braces is not enough to keep them totally clean, and they will require special cleaning.
If you wear removable orthodontic appliances, make sure to remove and clean them with toothbrush and water every night before sleeping.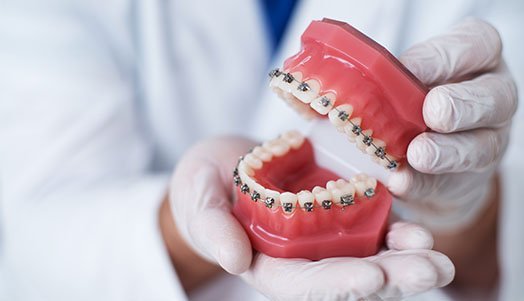 How to Clean your Braces
Make sure to take off any bands, straps, or headgear.
Place your brush at a 45-degree angle against the gum. Use gentle side-to-side strokes along the gumline. Brush one tooth at a time for about 10 seconds each time.
Do the same for inner and outer sides and gum lines.
Brush all the chewing surfaces of your teeth, including the back teeth.
Diet Tips
When you are installed with braces, your Leederville dentist will most likely recommend you take care of them by considering your dietary choices.
There are specific foods that may cause damage to your braces and make it necessary to go back to the clinic for fixing or further treatment.
Here are a few tips to avoid damage to your braces while eating and drinking:
Avoid chewing gum
Avoid drinking sweet and acidic drinks
Hard fruits and foods that need firm chewing should be cut into smaller pieces before eating
Limit your sugary food intake
Avoid hard and sticky candies
Braces Lifestyle Changes
It may seem overwhelming, but you should be able to adapt to your braces and make it a habit of looking after them and your oral health.
Braces don't stay on forever, but their effect on your dental health will be around for a long time once they are removed.
See your Leederville dentist monthly for adjustments if necessary
Wear a mouthguard if you play sports or participate in leisure activities
Bring a toothbrush with you whenever you leave home and clean your braces whenever you think it's necessary
Braces Care in Leederville
Take care of your braces as how you take care of your own teeth. Remember that they do you a lot of favour in improving your smile.
To claim your FREE Braces Consultation, call us on (08) 9242 4400 or request your appointment online.
We are located at 322 Vincent Street in Leederville.
Frequently Asked
Questions
How long do I need to wear my braces?
The total treatment time will depend on your orthodontic problem, its severity and the type of braces you chose. In general, the total treatment time may last up to 12 to 30 months.
Do I still need to visit my dentist even while wearing braces?
Yes. Going to your Leederville dentist for your regular dental check-ups and scale and cleans will help you avoid tooth decay, gum disease and other oral health problems. It's more important than ever when you're wearing braces.
How often should I brush my teeth while wearing braces?
Your Leederville dentist usually recommends brushing your teeth at least four times a day (after breakfast, lunch and dinner and before bed).
We accept EFTPOS, Visa, Mastercard as well as HICAPS and All major health funds.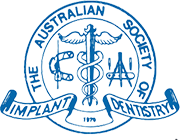 Book Your Consultation Today!
We accept Eftpos, Mastercard, Visa Card, HICAPS and All Major Health Funds.
Contact Info
Dentists on Vincent Leederville
Address: 322 Vincent St, Leederville, WA 6007
Phone: (08) 9242 4400
Opening Hours
Mon: Closed
Tue: 9:30 AM – 5:30 PM
Wed: 9:30 AM – 6:30 PM
Thu: 9:30 AM – 5:30 PM
Fri: 8:30 AM – 3:30 PM
Sat: 8:30 AM – 12:30 PM
Sun: Closed
PARKING/PUBLIC TRANSPORT
There is ample car parking across the road from the practice
There are cafes and eateries within walking distance