Get the Perfect Smile with Dental Veneers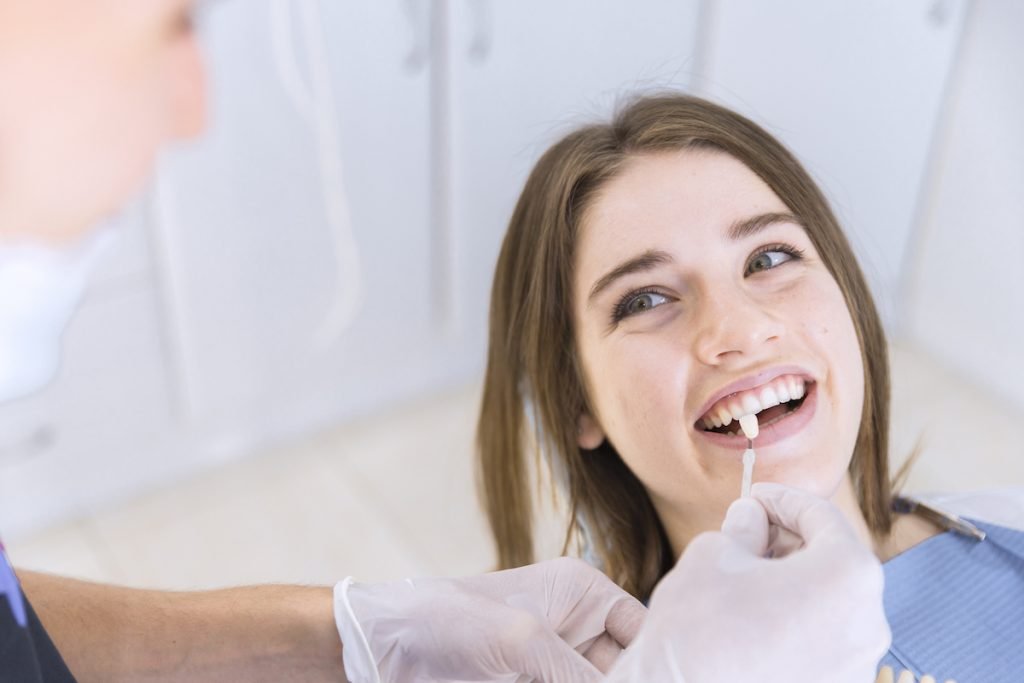 If you have a smile that appears unpleasant due to teeth that are:
Stained/discoloured
Chipped/cracked
Worn-out
Irregularly shaped
Misaligned
Gapped
Dentists on Vincent may have your answer! In fact, we have several potential solutions, including dental veneers.
Veneers are an efficient, attractive, quick, and relatively economical way to cover up a multitude of aesthetic issues with teeth and smiles.
If you are considering working on the appearance of your teeth, specifically veneers, you may not know that much about them – how they are applied, what they do, and how they affect your oral hygiene, including your chances of getting tooth decay.
At Dentists on Vincent, we're happy to be here to fill you in!
Why Choose Dental Veneers?
There are very reasons to consider veneers as a solution for some cosmetic dental issues.
If you have yellow, discoloured, cracked, chipped, slightly misaligned or strangely shaped teeth, veneers can improve your smile, confidence, and even performance.
They can also make your teeth appear substantially brighter, and they are more stain-resistant than natural teeth.
But veneers are not 'silver bullets' and must be cared for.
How can veneers help you avoid cavities?
Some people believe that the chance of cavities increases with veneers because tooth reduction is needed. But the opposite often happens.
If appropriately applied, veneers can protect tooth enamel from the cavity-causing acids produced by oral bacteria. Because the veneers themselves are not subject to decay, they protect the teeth.
Another thing to consider is that the shiny new look of veneers can become the impetus to developing a new and improved oral regimen that improves the health of teeth and gums.
There are several ways teeth covered by veneers can get cavities:
Patients with weakened teeth (from decay, fractures, or extensive dental fillings) or unhealthy teeth (decay or active gum disease), or those without an inadequate amount of enamel on the tooth surface, are far more prone to see unsatisfactory results, including decay, if they receive veneers.
Poorly installed veneers can give a bad fit over the tooth, leaving it vulnerable to decay, as the protective enamel has been
Veneers require good oral hygiene as well as regular trips to the dentist for check-ups.
A patient may take medications that promote dry mouth, or they may be experiencing a suppressed immune system, leading to inflammation and infection issues in the mouth.
Care for Your Dental Veneers!
As you might expect, the best way to avoid decay in a veneer-covered tooth is a through an oral health regimen that keeps teeth and gums healthy, seeing your dentist regularly and complying with all post-treatment suggestions provided by Dentists on Vincent.
We have some pointers on how to take care of both the natural tooth below the veneer and the veneer itself. Most of this advice might seem obvious.
Brush twice — 20 minutes after every meal and snack, if possible.
Floss daily.
Visit Dentists on Vincent twice a year for cleaning.
Use mouthwash twice a day to battle bacteria.
Cut down on acidic foods and drinks, like citrus fruits, soda, and coffee.
Limit snacking.
Cut back on consumption of sugary treats and drinks.
Stop using tobacco products.
Your veneers are an investment in your appearance and dental health, so you shouldn't waste the opportunity that they give you!
Take care of your veneers at home, and we will help you take care of them in our offices. If you are interested in upgrading your teeth with veneers, give us a call!
If you suffer from tooth decay after the placement of a veneer, the decay is generally easy to treat.
On newer veneers, a tooth-coloured bonding agent may be the answer, while older dental veneers may simply be replaced.
Learn more about Dental Veneers in Leederville!
A Brighter Dental Experience in Leederville
Dentists on Vincent offers a friendly environment in a lovely heritage building that doesn't feel like you're at the dentist!
Our dental practice offers a child-friendly environment as we address their apprehension towards treatment.
We take the time to explain to you all your options and how we can provide you with a smile you can be proud of.
Dr Lamattina is very gentle, and your mouth will feel great and look fantastic.
We offer convenient times to come in and get your treatment completed, and it's easy to find us just off the freeway.
Don't put it off any longer, call us now for a consultation appointment and see what we can do to give you a feeling of confidence and esteem in yourself.
Visit your Leederville dentist today!
For more information about dental veneers and how they can enhance your smile, call us on (08) 9242 4400 or request your appointment online.
We are located at 322 Vincent St in Leederville.
NEED DENTAL ADVICE? JUST ASK US A QUESTION.
(replies during business hours)
Book Your Consultation Today!
We accept Eftpos, Mastercard, Visa Card, HICAPS and All Major Health Funds.
Contact Info
Dentists on Vincent Leederville
Address: 322 Vincent St, Leederville, WA 6007
Phone: (08) 9242 4400
Opening Hours
Mon: Closed
Tue: 9:30 AM – 5:30 PM
Wed: 9:30 AM – 6:30 PM
Thu: 9:30 AM – 5:30 PM
Fri: 8:30 AM – 3:30 PM
Sat: 8:30 AM – 12:30 PM
Sun: Closed
PARKING/PUBLIC TRANSPORT
There is ample car parking across the road from the practice
There are cafes and eateries within walking distance